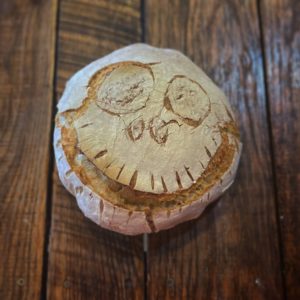 I pulled out my sourdough starter several months back after a long vacation in the fridge. I call his Paul Hollywood by the way. He sprang back into action and was ready to bake.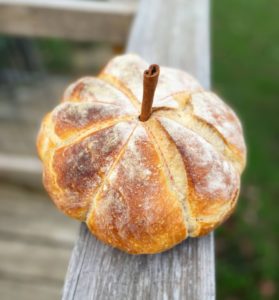 I have been baking basic bread for a while, but I have been seeing these interesting shaped boules through the web and thought I would give them a try myself.
They turned out so well and were so easy!
If you are interested in a "how to" I have a tutorial on my instagram page. And I'll post my TRIED AND TRUE basic sourdough boule recipe at the end of this post!
Sourdough Boule
1/2 cup active starter
3 1/2 cups flour (you can use up to 50% whole wheat if you would like)
1 1/2 cups filtered water
1 1/2 tsp salt
Mix flour/flours and salt in large mixing bowl.
Measure water and add sourdough starter to your water. An active sourdough will float. Mix well
Add wet mixture to dry mixture until combined.
Cover and allow to rest. After about an hour you can briefly stretch and fold the dough. Meaning take one side stretch it up (don't allow to break) and fold it over the dough. Rotate the bowl and do it again on all four sides.
You can do this again in another 15-30 minutes.
Cover again and allow to ferment and bulk up for at least 12 hours.
After your fermenting gently take your dough from the bowl, flatten dough with the palm of your hand and fold dough into itself from four sides and flip over and smooth and tighten dough tension. You want the ball of dough to have a nice, smooth top. Turn upside down into a proofing banneton. Allow dough to raise for 1-2 hours until doubled or close. Lightly dust a piece of parchment paper with flour and lay dough carefully onto paper. You do not want to knock the air out of your dough. Score with lame.
In the meantime heat your oven to 500*. Add your Dutch oven with lid to your oven and allow it to preheat. This will make the cooking vessel nice and hot and ready for your bread.
After heating lower your heat to 475*.
Lay your parchment paper with bread dough into vessel. Cover and bake for 30 min.
After 30 min, remove lid and lower oven temp to 450* and bake uncovered for another 15-30 min (depending on oven ). You want a deep rich brown color to your bread. Remove from oven and transfer carefully to wire rack to cool.
Enjoy!