March is flying by around here! We have several new adventures coming for the homestead. The first one is meat chickens, they should arrive THIS WEEK! Possibly even today. Shannon built a brooder for them and hopefully we will be able to keep them in the garage this way… we will see! 25 chicks may be a bit much in a tote in the bathroom. haha (we've always raised baby birds in a tote in the bathroom in the past)
We also will be diving into bees this year. Something Shannon has had a particular interest in for a long time, but beekeeping can be very pricey. We have acquired quite a few of the necessities from some dear friends, so hopefully by getting the bees we will be dipping our feet in the deep end and getting ready for this adventure. We are very excited (and nervous)!
As you can see above, the chickens are really producing right now and we are grateful! Eggs that are so full of flavor and nutrition. It's a tremendous blessing to be able to gather them each day!
And it is about that time! The homestead open house starts in JUST 4 days!!!
Have you signed up yet? Make sure you do!
Click on the picture above for a link!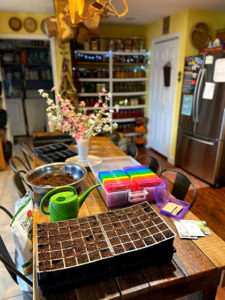 It's also that time of year for seeds! Planting, planning, and anticipating! So excited for what this spring/summer growing season will hold for us!
Praying for good health, good weather, and great crops!
Blessings!