Monday's are our day for Scouts. We are part of a Homeschool Pack so we travel a little ways to meet with them. So in order to compensate we always pack a picnic for our supper. Not only is it much more economical for our family… it is a lot of fun.
Sandwiches
Nuts
Raisins
Juice boxes
and this week Pumpkin Caramel Muffins! WOOT!
I found this recipe over at my dear friend Lindsey's blog.
***Taken directly from her blog, because she has such wit, and I love her!***
Preheat oven to 400.
Mix together in a big bowl (I use a whisk to mix):
2 cups flour
2 t baking powder
1 t cinnamon
1/4 t cloves
some freshly grated nutmeg (not measured but just a dozen or so strokes on the grater)
1/2 cup sugar, I used sucanat
In a 2-cup measure combine:
1 cup pineapple juice (especially if you made pizza last night and didn't drink the juice from the pineapple straight from the can the way you usually do)
splash of apple juice to make a full cup of juice (if your can only yielded 3/4 cup of pineapple juice)
3/4 cup pumpkin puree (or as much as you could dig from the partially frozen can in your fridge)
1 egg (preferable from your ownty-downty chickens)
Pour the wet stuff (well mixed) into the dry stuff and give a brief stir. Throw in:
1/4 cup coconut oil
and finish stirring everything up, hopefully with your awesome hand-carved chinaberry spoon that you bought from the blacksmith conference. Then throw in:
1/3 cup or so chocolate chips (so your kids will eat the muffins)
Here is where I used caramel bites instead!
Another quick pass with the spoon so that one person doesn't get all the chips.
Spoon into oiled muffins tins (I like to use coconut oil to "paint" my tins too) and bake for 20 minutes. Let cool in the pan for a few minutes.
Everyone enjoyed the muffins.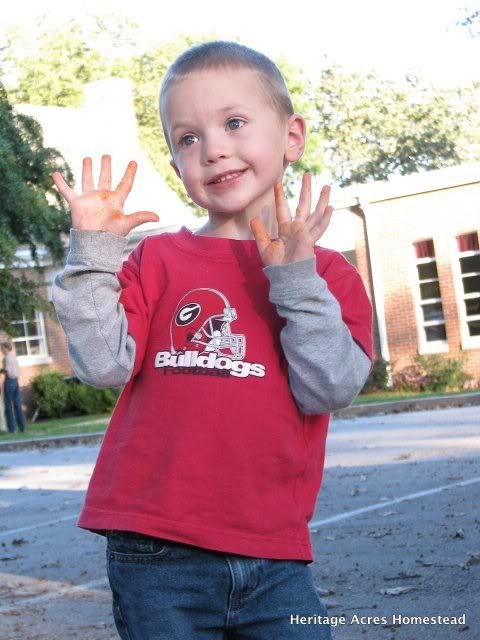 Here's Abram's Jazz hands… or maybe they are his "all done" hands.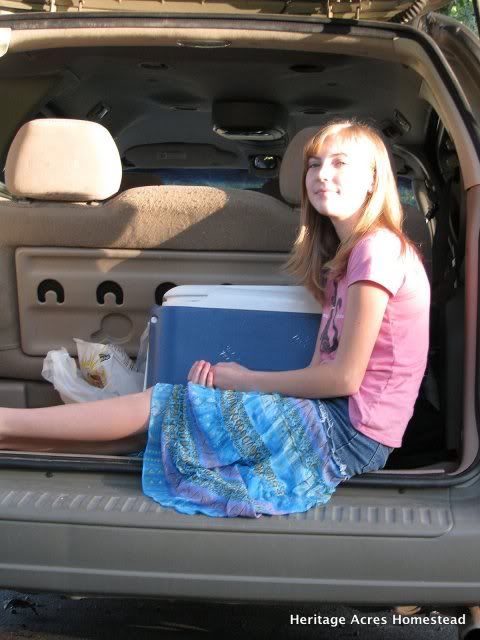 It was rather chilly and Cameo wanted to sit in the back of the van… I had to make her let the hatch up so I could get a picture of her. haha
This one is one of my favorites!
Carlie was cold and so Daddy was being her shield to block the wind.
Awww, What a sweet Daddy!
Have a blessed day my friends!