Here we are at the start of a brand new work week. I hope you enjoyed your Easter Sunday. We spent the day with family after church, and it was wonderful.
Cameo took this picture of Shannon and I.


Here are my beautiful children…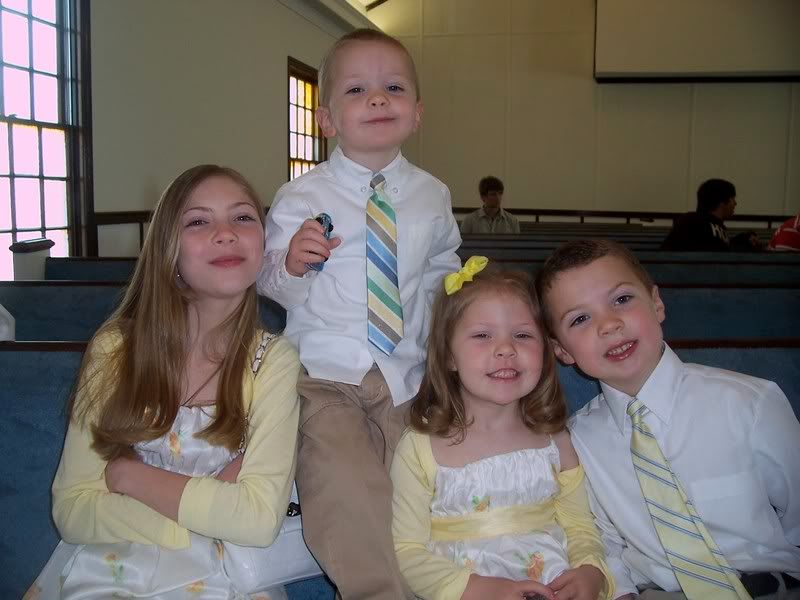 We went to my Mom's to get a picture in front of a gorgeous forsythia bush, but my children take after their Mom, because the bright sunlight hurts their eyes and they couldn't look at the camera without hiding their eyes from the sun. So there went our family picture.
Thankfully we were able to have one made at my Mom's.
Not the backdrop I wanted with us in our yellow and white, but… it turned out ok.

Something was said yesterday while we were getting ready for Easter Sunday service. We had a child with a grumpy attitude and I said… "This is no ordinary day… this isEASTER! We can have the weight of the world on us, but TODAY, Easter Sunday is for REJOICING!" And my wonderful husband came in and said… We should feel that way EVERY day. Because what the Lord Jesus did for us on Easter Sunday affects us every day of our lives!
So true, so true my dear! And what a reminder to me! He rose from the grave on Easter… but, He lives in my heartevery day! I need to be more careful of my actions to show it!!!!!
Have a wonderful day!!!